Do you want a special event to welcome someone special?
I can assist families to joyfully celebrate the births of their children and affirm their commitment to the role of parenting, through personalised baby naming ceremonies.
I work together with parents to design the type of ceremony they want – formal or informal, with opportunity for participation by family members and close friends. The ceremony can be held at your home or at another venue of your choice.
Some families do this close to the birth of the baby and others prefer to wait till the child is a few months old or combine it with a first birthday celebration.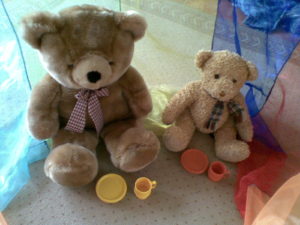 Why have a baby naming ceremony?
Perhaps you are not currently connected with a church, or don't want a Christian baptism service, yet you would like to have a way of marking
the important event of the birth (or adoption) of your child
their inclusion in your family, and
your commitment to the awesome role and responsibility of parenting.
Although this can be done privately by the parents, it is great to do this more publicly with friends and relatives present to share in your joy and offer their support to you and your child.
If parents are from different denominations or faiths to each other, a baby naming at home or another venue can be a good compromise. I am happy to include prayers and Bible verses if desired.
Participation
Parents, godparents, grandparents and close friends can have input into the ceremony if you wish.
Informal and family friendly
I love interacting with babies and young children and doing things in a creative way. I think it is great if older brothers and sisters can be a part of the ceremony and am also keen for other young guests to feel included. (I am a grandma to three young grandsons and two granddaughters, and I understand the limited concentration span, and the need for flexibility in planning, when including children in an event.)
No obligation inquiries welcome
Please feel free to contact me if you would like to discuss the possibility of  working together to plan a personalised baby naming ceremony that is just right for your family.