Having worked for many years as a hospital chaplain (with children, adults, and in palliative care) I am experienced in supporting people in times of sorrow and loss. I enjoy visiting families in their homes and working with them to create unique funerals that reflect the person's life and values. The services vary from being non-religious to contemporary, or more traditional, Christian ceremonies, according to the wishes of the family. I have designed personalised services and officiated at the funerals/ memorial services of people of a range of ages from babies to the elderly.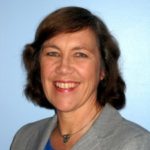 Availability
I am based in the Western suburbs and Hills district of Sydney, but I am available to plan and officiate at cremations, burials and memorial services throughout Sydney.
Inquiries Welcome
Feel free to contact me for an obligation-free inquiry or conversation to help you decide if I'm the celebrant that you want for this important service. I am a warm, caring person, with a gentle, calm manner.
What is the process?
You are free to choose your own celebrant, and then inform your funeral company of your choice. They will then liaise with me regarding the date and time, location and other arrangements. Payment of my fee is usually made through the funeral company who will include a celebrant's fee in your quote.
"I am passionate about offering supportive care to grieving families and friends, assisting them to create special services, and conducting them in a very professional, yet warm, manner."